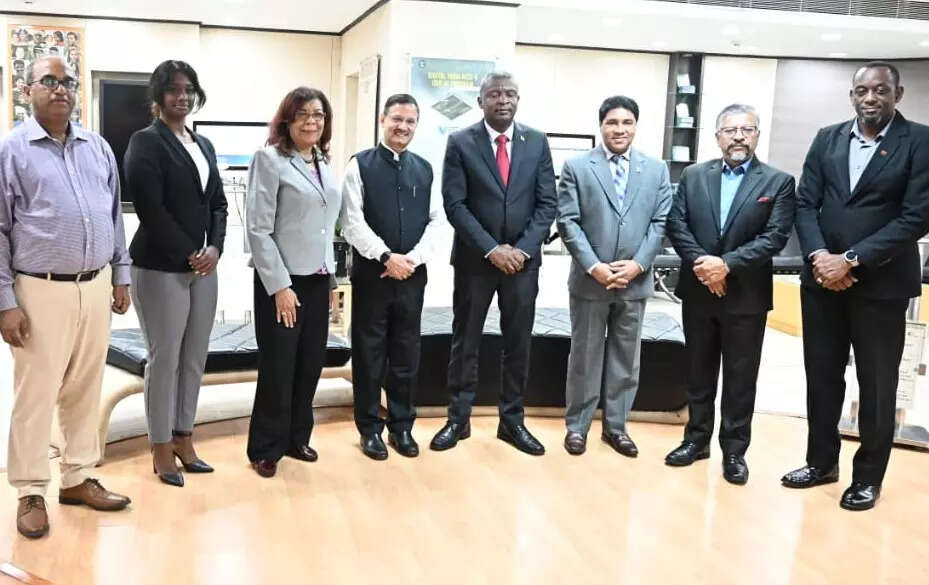 A high level delegation from the Ministry of Digital Transformation, Trinidad & Tobago on Monday visited Electronics Niketan, Ministry of Electronics and IT, in New Delhi. The delegation was led by Hassel Bacchus, Minister of Digital Transformation and it included Dr Roger Gopaul, High Commissioner, Jacqueline Wilson, Chief Digital Transformation Advisor, Devindra Ramnarine, Senior Digital Transformation Advisor, Christopher John, Senior Project Manager and Danielle Seunarine, Associate Professional.The Indian side was represented by Alkesh Kumar Sharma, Secretary, MeitY, Abhishek Singh, P&CEO, NeGD and Sushil Pal, Joint Secretary, MeitY and senior officials of MeitY, MEA, NeGD, UIDAI, NPCI-NIPL.
Speaking on the occasion, Abhishek Singh emphasised on India stack solutions, especially digital public infrastructure and foundational building blocks in form of Aadhaar (Digital Identity), DigiLocker & API Setu (Data Exchange) and UPI (Digital Payment).
Hassel Bacchus, Minister for Digital Transformation, Trinidad and Tobago, stated that digital transformation is critical enabler for sustainable development goals and its impact covers people, process and technologies. He also expressed the intent to understand digital journey of India, India Stack and DPI Ecosystem and foundation for digital transformation in India. He also mentioned that Trinidad and Tobago would like to learn from India and share the same in Caribbean region.
Alkesh Kumar Sharma explained Digital India, its vision to digitally transform the country and its contribution in digital inclusion, financial inclusion, participatory governance and in bringing more transparency in the governance. He covered the rollout of several digital initiatives (such as Jan Dhan, Direct Benefit Transfer, GeM, Co-Win, E-Sanjeevani, DIKSHA, etc) for ease of living, and ease of doing business. He also emphasized on India Stack Global, where 15 India Stack solutions are made available to the interested countries. He said an MoU on digital cooperation may be taken up between the two countries.Sushil Pal, Joint Secretary, MeitY thanked the delegations and participations. He informed that the delegation visit is also planned to CDAC for high end technologies development and NIELIT for digital skilling in India.
Three deep dive sessions on Digital Identity, Data Exchange and Digital Payment were organised. In these sessions, presentations and demonstrations were made by the senior officers from UIDAI, NeGD, and NPCI-NIPL. The meeting ended on positive note where DigiLocker was noted as the low hanging fruit that can be implemented on comparatively less time.
Variouss Digital India initiatives were showcased and explained to the delegates through kiosks placed in Centre for E-Governance Conference Hall at Electronics Niketan, New Delhi.