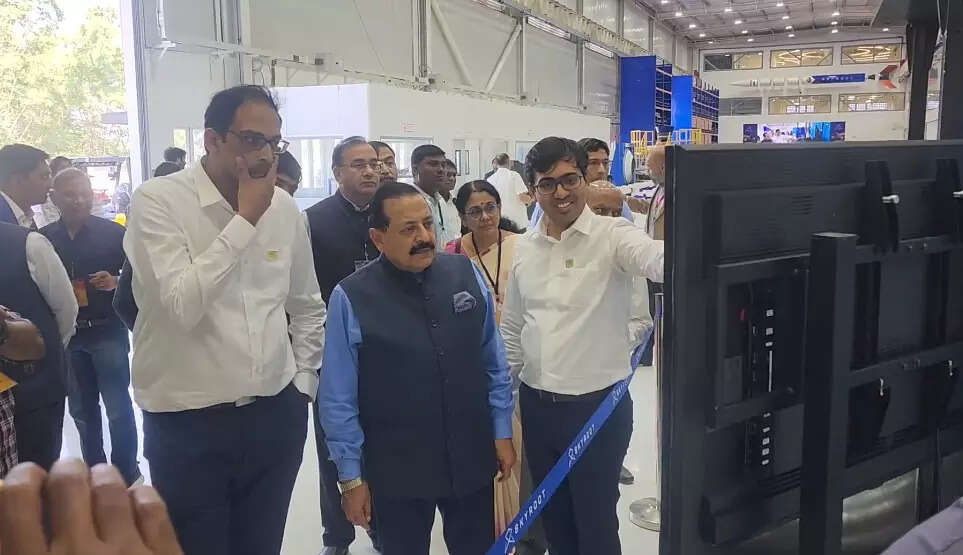 The unshackling of the Space sector by the Central Government has led to startup boom, as a result of which, within a short span of just about four years, the number of space starups has gone up from a mere single digit to over 150, with some of the earlier ones like the Skyroot turning into lucrative entrepreneurs.
This was stated by Dr Jitendra Singh, Union Minister of State (Independent Charge) Science & Technology during his visit to the newly setup facility of Skyroot in a premises of 60,000 Square Feet in Hyderabad which is possibly India's largest rocket factory in the private sector.
"Skyroot is not only example of India's superlative talent and scientific acumen but it also has message for all of us that a huge potential was lying dormant for several decades before Prime Minister Narendra Modi came and broke the taboos of the past and opened India's Space Sector for Public Private Partnership," Dr Jitendra Singh said.
Skyroot Aerospace was the first space startup to have launched a private rocket from ISRO station at Sriharikota last year after the space sector was thrown open to private players over three years ago, the release from Department of Space said. Headed by two IITians, Pawan and Bharat, they have now set up India's largest Rocket developing facility with updated technology. It has the capacity to develop cost effective rockets, on demand, the release added.
"The space economy is going to make a significant contribution to the nation's economy when Independent India celebrates its 100th Independence Day and will be a frontline nation of the world," the Minister said.
Dr. Jitendra Singh also unveiled Skyroot's Vikram-1 orbital rocket. Vikram-1 is expected to mark yet another first for India, since the country opened up the space sector to private players in 2020. "The success of Skyroot is an inspiration to India's vast youth talent pool aspiring to set up their own Startup ventures, especially in new and emerging sectors including Space, BioTech, Agriculture and Energy," said Dr. Jitendra Singh.
Dr Jitendra Singh said India's Space missions are designed to be cost effective, building upon human resources and skills. He noted that the "Anusandhan National Research Foundation" will pave the way for a greater PPP model in scientific research.
"NRF budget envisions a spending of Rs. 50,000 crore over five years, out of which a major share of Rs. 36,000 crore, over 70%, is estimated to come from non-government sources, from industry & philanthropists, from domestic as well as outside sources," he said.