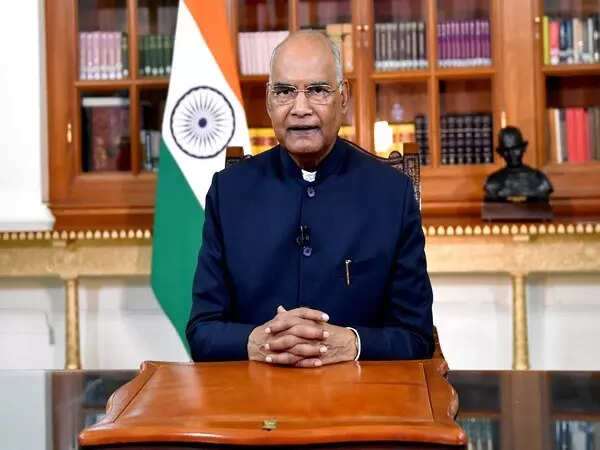 Hours after the Centre Saturday named an eight-member high-level committee, headed by former President Ram Nath Kovind, the Centre has gone ahead with constituting an eight-member High-Level Committee to examine the issue of 'one nation, one election' and make recommendations for holding simultaneous Centre and state elections in the country.
Apart from former President Ram Nath Kovind, who is Chairman, the committee comprises Home Minister Amit Shah, Congress leader Adhir Ranjan Chowdhury, former Leader of Opposition in Rajya Sabha Ghulam Nabi Azad, former Finance Commission Chairman NK Singh, former Lok Sabha Secretary General Subhash C Kashyap, Senior Advocate Harish Salve and former Chief Vigilance Commissioner Sanjay Kothari.
A government notification said that Law Minister Arjun Ram Meghwal will attend the meetings of the High-Level Committee as a special invitee. The committee has been set up months before assembly polls in five states and ahead of Lok Sabha polls next year. Parliamentary Affairs Minister Prahlad Joshi had informed about the constitution of the committee on Friday.
"Right now, a committee has been constituted. A report from the committee will come out which will be discussed. The Parliament is mature, and discussions will take place, there is no need to get nervous. India is called the mother of democracy, there is always an evolution. I will discuss the agenda of the Special session of Parliament," he said.
Leader of Congress in Lok Sabha Adhir Ranjan Chowdhury on Saturday declined the invitation to be part of eight-member committee formed by the Centre. In a terse, but strong letter to Home Minister Amit Shah, Chowdhury said he cannot be part of the committee, the "terms of reference" of which "have been prepared in a manner to guarantee its conclusions." He called the exercise an "eyewash".
"I have just got to know through the media and a Gazette notification is appeared that I have been appointed as a Member of the high-level committee on simultaneous polls to the Lok Sabha and the Vidhan Sabhas. I have no hesitation whatsoever in declining to serve on the Committee whose terms of reference have been prepared in a manner to guarantee its conclusions. It is, I am afraid, a total eyewash," said Chowdhury in his letter to the Union Home Minister.
The concept of "one nation, one election" has for long been championed by Prime Minister Narendra Modi, who believes that by synchronising Lok Sabha and assembly elections there can be a new era of electoral efficiency in India.